Other Forms Templates
Driver Daily Log – 8-1/2 x 11
Please select artwork files:
Your browser doesn't have Flash, Silverlight or HTML5 support.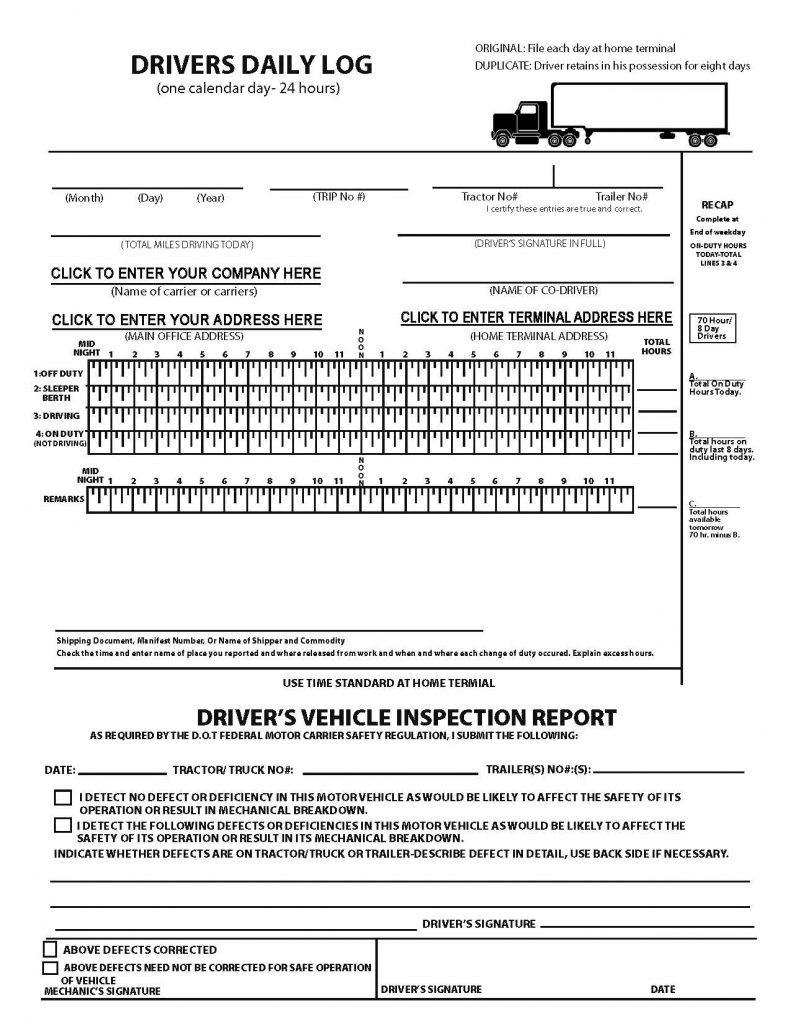 ¤ How to Determine Quantity?
PLEASE NOTE:
quantity is in "sets" not "books".
For Carbonless Books in Books (use "Wrap Around Cover" option).1 book x 50 "sets" per book = Quantity 50
10 books x 50 "sets" per book = Quantity 500
20 books x 50 "sets" per book = Quantity 1,000
1 book x 25 "sets" per book = Quantity 25
4 books x 25 "sets" per book = Quantity 100
10 books x 25 "sets" per book = Quantity 250
¤ What are "Finishing Options"?
Sequential numbering, perforations, and made into booklets (Wrap Around Covers) "Finishing Options" you can add to your form. Details on these options are found under the ? to the right of each option.
¤ When and how will I get a proof for approving?
You may view your proof when you are done personalizing your form by selecting "View PDF". Be sure to return and approve the proof before continuing or your file will not be stored with your order.
¤ How does the writing transfer?
It is a chemical reaction. When you write on the top white sheet, that writing transfers through to the canary sheet. Carbonless only transfers from the front side of the sheet. It does NOT transfer if turned over and written on the back.
¤ When will my order ship?
Your order will ship in 3 business days. Large quantity orders with sequential numbering or "Wrap Around Covers" may add 1-2 extra production days. Expedited turnaround is available. Click the ? for details and cut-off times.
¤ How will my order ship and what is the cost?
¤ Do you ship to Canada, Alaska and Hawaii?
Since all our orders ship UPS Ground, we can ship to Canada – you'll see the pricing options in the checkout process once you enter your shipping address. We do not ship free to Canada. Sorry, at this time we do not ship to Alaska, Hawaii or outside the Continental United States.
¤ Do you have any customer reviews?
¤ What is carbonless paper color sequence?

---
---
Carbonless | NCR Forms can be used for carbon copy invoices, receipts, service orders, purchase orders, contracts, almost any business form where you need one copy for you and one or two for your customer.
We have been printing custom NCR business forms, carbonless forms or custom carbon copies since 1990. We print from your artwork making custom carbonless forms for you in 2 part, 3 part, 4 part, even 5 part stock and ship to you via UPS Ground for free. Expedited shipping is also available with pricing plainly stated in the checkout process.
Carbonless paper works via a chemical reaction which means it only transfers from the front of the top sheet to the top of the bottom sheet(s).
Carbonless forms started out being known as NCR Forms or NCR Printing and have many uses such as invoices, sales receipts, work orders, home care forms, almost any business form. The old carbon forms were messy, but the new NCR or carbonless forms are quick and easy to use.
We use paper made in the U.S.A. All parts are 20 pound stock, not the flimsy carbonless. We can print your business forms in black ink or up to full color to give your forms that "pop" that makes you stand out from the crowd.